Chris Evangelou aka The Flash, is a certified personal trainer and a British pro-boxer with an impressive professional record. He was born in London in 1986 January the 1st and stated boxing when back in 2003 when he was 17. He turned professional at the age of 23 after an amateur career of 40 fights with 35 wins.
He is one of the most respected professional boxers in the United Kingdom and in this video we are thrilled to have him review Training Mask 2.0. Having a lot of conditioning training experience, makes Chris The Flash Evangelou the perfect athlete to share his thoughts on Training Mask. Let's hear him out.
"I've been using it for a few months now, so I am really educated on it and I know exactly how it works, the pros and the cons and if you should buy it."
Unlike most Training Mask users we've see reviewing the product, Chris actually recommends reading the user manual and watching the instructional DVD which comes in the package. This way you will become more educated on how to use Training Mask, how to set up to interchangeable valves for different type of trainings and just how everything works.
I know this might be boring for most people who are just anxious to start using it, but instead of just diving into it right away without knowing what you are doing, checkout the manual, learn how everything works and then put it to work.
"This process of changing the valves doesn't only stop you from breathing in as much oxygen, or as much air, it also restricts the amount of CO2 that you can breathe out."
What Chris actually means by this is that if for example you hold your breath for 30 seconds, the first thing you want to do is not inhale, but exhale. That's because the body has to deal with a build-up on CO2 and it doesn't like to have too high levels of that. That is a waste product, especially when you are training.
"When it is on, you train a lot harder."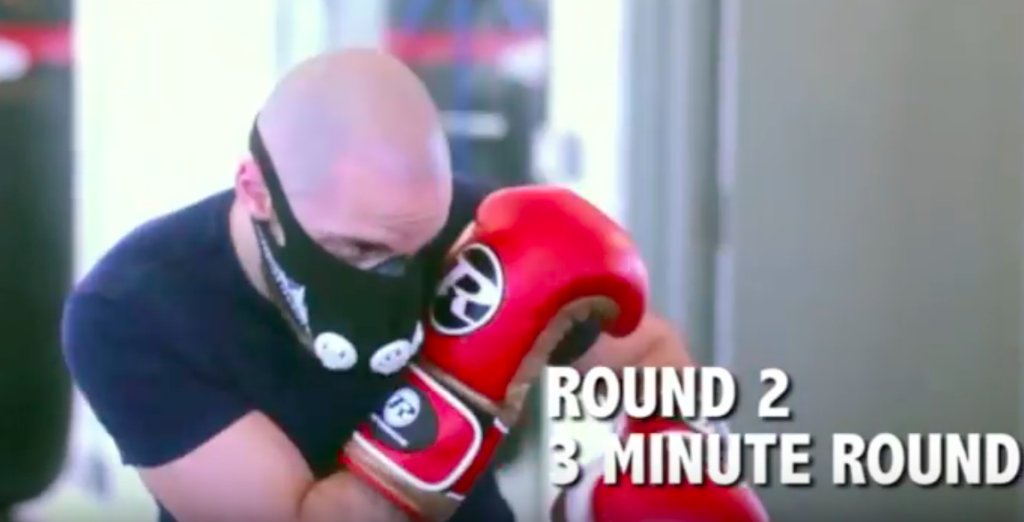 Here is a boxing workout example if you are a boxer who wants to give Training Mask 2.0 a try.
Round 1 – Hit the heavy bag for 3 minutes (Training Mask is ON)
Rest for 1 minute – Keep Training Mask ON
Round 2 – Hit the heavy bag for 3 minutes (Training Mask is ON)
The reason Chris likes to keep the Training Mask on during his rest period is because you want to be able to recover with the air restriction on so you don't take it off between the rounds, no matter how many rounds you are doing.
"When you train it without it on, after you had it on, that's when you notice the difference. You are not being suffocated anymore, you feel like you have oxygen for free and it's a lot easier to train.  Just like when you are weight training, you are building your muscle and the resistance, so when you pick up the weight you used 3 months ago, it's going to feel like it is easy again."
For the weight lifters out there – I think this is the best explanation or analogy if you will, of how the Training Mask works.
It just forces you whole respiratory system and you conditioning to adapt to harder conditions, to using less oxygen, and as a result of that performing your training under normal conditions (with the Training Mask off) will become much easier to handle for your body.
At first it may seem like the Training Mask just makes things harder and it is getting in the way of your workouts, and that is perfectly normal.  It's actually a good signed that you are doing everything right. Don't let that fool you, it is supposed to be harder. But when you will take it off and perform the same exact activity without the Training Mask, that's when you are going to notice the improvement.
So check it out, give it a try, and step up your boxing game.
Watch the full video review here: